Welcome to the Recipe Archive of the Jewish Food Mailing List!
In addition to the recipes from the list (click on the button below or on the Join page to become a member of this world-wide online community with almost 2,200 members from 45 countries), you will also find information on holiday menus, food preparation techniques, cookbook resources, restaurant reviews, and kashruth (kashrus) guidelines - the laws regarding kosher foods.
Please note that all copyright protections, both individual and compilation, apply to this site. Recipes may not be reproduced in any other forum without explicit permission.
All efforts have been made to assure that the recipes found in this archive comply with the laws of kashruth. If you come across a recipe in which there is a error in kashruth, please contact us.
Join List: Subscribe to Jewish Food

Info: Email List Owner
This Ethnic Recipe Ring is owned by The Jewish Food Mailing List.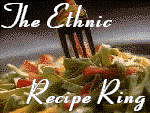 Click for the [ Previous ] [ Random ] [ Next ] [ Skip Next ] [ Next 5 ]
Click here for info on how to join The Ethnic Recipe Ring.